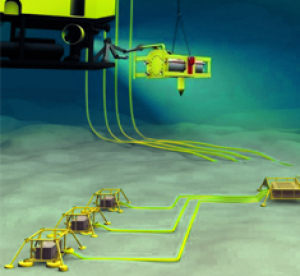 Subsea Engineering is perhaps one of the most important, yet most difficult aspects of the offshore petroleum industry. The underwater production environment presents unique challenges to subsea engineers, particularly deepwater operations where temperature, pressure and corrosion test the durability of submerged equipment and tools. Most subsea engineering operations depend on automation and remote procedures to construct and repair components beneath the surface of the water. A subsea specialization trains offshore engineering professionals to design equipment, tools and infrastructure utilized in offshore petroleum production.
Subsea Engineering at UH
Located in the Energy Capital of the World, the University of Houston is the only institution in the United States providing a master's level and certificate training program in Subsea Engineering.
The University of Houston has two options:
Subsea Engineering Students
University of Houston Subsea Engineering students, Nebolisa Egbunike and Megan Wood, share their experience with UH's Subsea Engineering Graduate Program.