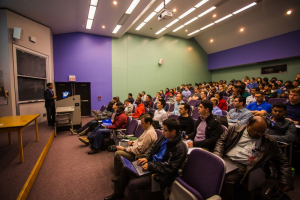 About the Certificate Program
The UH Subsea Engineering Program offers two graduate certificates in subsea as detailed below. The graduate Certificate in Subsea Engienering programs are for engineers who seek graduate level education in Subsea Engineering, but do not want to pursue a master's level degree in Subsea Engineering. Admissions to the programs requires applicants to have a four-year bachelor's degree in engineering degree or a related field. A GRE score is not required. Students in the Subsea Certificate program may later apply to the Master's Subsea program. A maximum of three certificate courses will transfer to the Master of Science in Subsea Engineering program. The Subsea Engineering courses are available face-to-face in a classroom setting and online.
Courses for each certificate program include:
Leveling courses:
Up to 3 courses may be required for students who are admitted conditionally into the program or who did not take these courses in their previous education:
MATH 3321 - Engineering Mathematics (or equivalent)
OR
MATH 3363 - Introduction to Partial Differential Equations (or equivalent)
MECE 3363 - Introduction to Fluid Dynamics (or equivalent)
MECE 4364 - Heat Transfer (or equivalent)
Certificate in Subsea Engineering
Restricted Elective 1
Restricted Elective 2
Advanced Certificate in Subsea Engineering
Restricted Elective 3
Restricted Elective 4
Restricted Elective 5
Courses
Restricted electives are selected among the following classes:
Academic Requirements
For each graduate program offered, students must have an overall G.P.A. of a 3.0 or higher. Any graduate student who receives a grade of C+ or lower in four graduate courses (whether or not in repeated courses) is ineligible to receive an advanced degree at the university.
Each student assumes responsibility for being familiar with the academic program requirements as stated in the current catalogs of the college and university and this website.
For further information on academic requirements, please review the UH Graduate Catalog.
For further information student rules and regulations, please review the UH Student Handbook.
UH-Extend
The certificates in subsea engineering and advanced subsea engineering are available as fully online programs through UH-Extend. Click here to learn more.